How to Choose the Right Camera for Your Photography Drone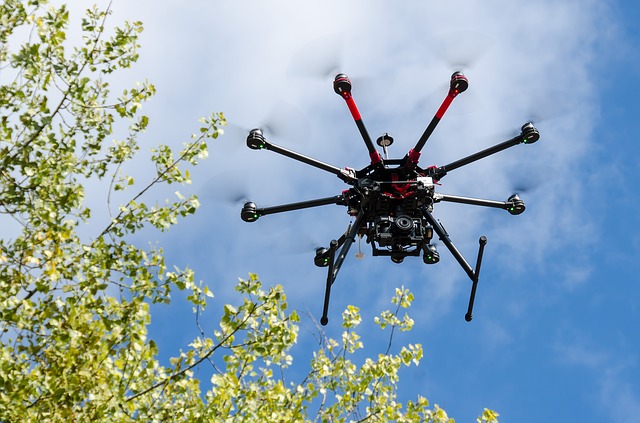 Unlike when drones first appeared, nowadays, you don't have to invest a small fortune to become a drone hobbyist. The market is over flooded with numerous multirotor brands and even more models, and a vast majority of them, already come with an included camera, or they are capable of safely carrying one. The aerial photography is now mainstream and more and more people are going down this path.
However, if you plan on being a serious drone photographer or filmmaker, you must have in mind that not all drones come with High-Quality cameras, even if the box says "FULL HD Camera". If you want real HD or 2K, or even 4K resolution, you have to cash out a serious amount of money (usually around $1K).
So, how to make your dream of making breathtaking aerial footage come true without robbing a bank? There is a way!  You can choose a higher-end drone model without a camera and save some money that way, or you can choose to go down the DIY path and save even more money. In this article, we are going to talk about how to choose the right camera for your photography drone and offer some useful tips so that you end up with the perfect camera for your drone, whether we are talking about amateur aerial filming, professional, or perhaps FPV flying or racing.
Choosing the Camera According to the Drone Type
In case you already have a drone, and you plan on strapping a cam on it, you need to know first what do you want to do with that camera and what type of the camera your drone can handle. Also, you need to have some experience in photography and the basic understanding of aerial photography. Therefore we recommend reading the article with drone photography tips, where you will get some really useful tips and ideas how to make perfect drone photos and videos.
Now, there are basically three reasons why you want to use a camera with your drone:
Aerial filming (professional)
Aerial filming (recreational)
FPV flying (Freestyle or Racing)
Now, depending on the type of your drone, and what you want to do with the cam, you can choose the type of the camera you want to use. For example, if you have a small whoop racing drone,  you have only one option, a small, light FPV camera, because these types of drones can't handle action cams like GoPro as they are too heavy for them. This way, you can be in the pilot's cockpit during your aerial adventures.
On the other hand, if you own a 250 size racing drone, you have three options, you can either use it only for FPV flying and for that you will only need a small FPV cam, or you can use both the FPV camera and an action cam as these types of drones are much more powerful  and can handle both cameras. But, you need to keep in mind that if you do use both, your flight time will significantly go down. The third option, would be only using a GoPro or a similar action cam, but then you will be forced to fly only in the line of sight as these cameras tend to have a significant lag for the live feed and you pretty much can't use them for FPV. Whatever the choice you make, keep in mind that the footage you record from these flights will mainly be just recreational use quality and that it won't be good enough for professional purposes.
Now, in case you own a 500 size or bigger drone model, you have much more options as they are powerful enough to carry both an FPV cam and an action one, or if you have a hexa or an octocopter, you can even choose a DSLR or a lightweight, mini cinema cameras like the Red or MagicBox, and shoot amazing aerial footage for professional use.
However, our search for the perfect camera for your drone doesn't stop here because there are more factors that need to be included before making the final choice. One of them is the Gimbal.
Choosing the Camera based on the Gimbal
Before we start talking about the types of gimbals, we need to highlight that choosing as gimbal depends mostly on the gimbal compatibility of your drone as not all models can use all types of gimbals.
Now, you need to know that there are two types of gimbals:
Two-Axis Gimbals
Three-Axis Gimbals
The 2-axis gimbals generally provide worse video stability than 3-axis gimbals. This is because 2-axis gimbals stabilize your video only on the pitch and roll axis, while the 3-axis type stabilizes all 3 axis (yaw, pitch, and roll). Therefore, the jittery horizontal movement or the infamous jello effect is more obvious in videos made with a 2-axis gimbal. These gimbals are good for action cams and for footage that doesn't require you to pan your camera, therefore not so good for professional use.
On the other hand, the 3-axis gimbals are capable of reducing or, depending on the amount of vibration your drone creates, completely eliminate the jello effect. This is possible thanks to a third motor, which is there to absorb the dreaded yaw axis movement. Also, this third motor allows you to pan your camera 360 degrees around the axis, which is perfect for making professional aerial footage. Furthermore, the 3-axis  gimbals come in much bigger sizes and are capable of carrying serious, professional filming equipment.
Choosing the Camera According to Drone's Lift Capacity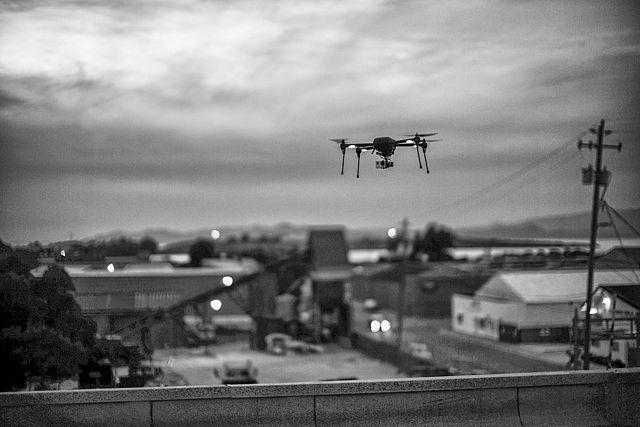 This is actually the most important thing when choosing which camera you want to use for your drone. Every drone has its max lift capacity which basically determines the amount of additional gear you can strap on your drone. If you are not sure what is your done's max lift capacity, we will help you figure it out. It is actually quite simple. The lift capacity depends mostly on the KV rating of your motors (KV being – Rounds per Volt). So, the more volts your battery delivers, and the higher the KV of your motors is, the faster the props will spin. But, the faster they spin, the less "Lift" the drone offers.
So, how to determine what type of the camera is suitable for your drone? It's easy, the lower the KV value is the higher lifting capacity of your drone is. So, if you own a racing drone, it probably has 1500 KV or higher motors (it can go to some 3000 KV), meaning you are stuck with FPV or light action cams. If you own a Phantom, or a similar style quad like 3DR Solo, or Yuneec models, the KV is probably around 1000 KV, meaning that it will be capable of comfortably carrying a GoPro, Mobius, Xiaomi Yi, Ekken, or similar action style cameras.
On the other hand, if you have motors lower than 800KV the lift capacity of your drone allows you to carry slightly heavier equipment like the mirrorless cameras, assuming that we are talking about a quadcopter. If you have a hexa or an octocopter with, for example, 400 KV motors, you can use a serious 3-axis gimbal and a DSLR camera (a Canon 5D) or even more advanced, lightweight cinematic cameras like the ones we mentioned earlier.
Wrapping it up
Okay, now you are hopefully equipped with enough knowledge to choose the right camera for your drone. Just remember some of the tips and rules we mentioned and you will be good to go. But, you also need to know that having the perfect drone, with a perfect camera, is still not enough to create jaw-dropping aerial footage. You need to practice, practice, practice! Drone
Would you like to receive similar articles by email?