The Top 5 Road Trip Cars for Under $35,000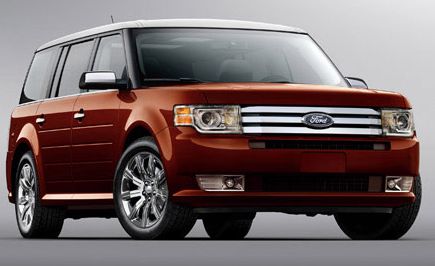 Many desires are multicultural, but the yearning to get out and hit the open road seems to be something that's ingrained into the American psyche. The U.S. has the second longest Interstate system in the entire world, and not many citizens go their entire lives without taking a few road trips. Most of us usually are content with taking whatever car we own, but many people actually decide to rent a car or purchase one based on how well it will do on a lengthy road trip.
The right vehicle for a road trip definitely isn't going to be a one size fits all choice. A family of four is going to have much different needs in a vehicle than a college student looking to see the country with their best friend. This, however, doesn't mean that everyone isn't allowed to get a good deal on the road trip vehicle of their dreams. Luckily, there are actually five different vehicles that are great for road trips that all fall under $35,000.
1. Ford Flex SE
When it comes to available room and good price, individuals with large families would be hard pressed to find a better vehicle than the Ford Flex SE. The vehicle can actually hold up to seven people, so the Flex is perfect for anyone who doesn't plan on taking the entire soccer team with them on their road trip. It's also great on providing comfort considering the fact that the most cramped space is the floorboard for the third row passengers, and they still have thirty-three inches of leg room.
Parents will also love the safety features that the Flex provides. There will never have to be any worry of backing into anything since the vehicle is equipped with rear parking sensors. Passengers will also feel safe in knowing that six airbags come standard and the Flex received very high ratings for side and frontal impact government crash tests. With the 2013 model only coming in at about $31,000, the Flex is an ideal vehicle for the rambling family.
2. Nissan Versa Sedan
Nissan has long been known for making quality vehicles, and the Versa is their main effort at making sure that the "common man" can afford a great car. For road trippers who don't have a large family to worry about but still want to take a few friends, the 40 highway MPG Versa is a great option. An individual will likely hear that the Versa is a subcompact, but because of its cargo and interior space, the Environmental Protection Agency actually considers it a midsize vehicle.
Safety is also a great feature that a person can expect from the Versa Sedan. A purchaser can actually pay a bit extra for traction and stability control, but with the 2013 standard edition coming in at just $12,000, most buyers can easily afford any of the additional features that they're hoping for.
3. Mazda2 Sport
Having four or more people in a vehicle for long stretches of time can sometimes work on a person's nerves. For those who hope to avoid that, the Mazda2 Sport is a great car that allows individuals to travel long distances by themselves or with just one special friend. The hatchback provides plenty of room for storage and more than enough space for two travelers.
The Mazda2 Sport base model includes traction and stability control systems, air conditioning and power windows, doors and locks. This is all combined with a 35 highway MPG rating and a price tag that rarely goes over $16,000. The greatest thing is that the $16,000 or less price tag actually applies to the 2013 model, so those on a tight budget can get the same great features at a lower price by opting for a 2011 or 2012 model.
4. Mazda5 Grand Touring
Another great vehicle for the traveling family is the Mazda5 Grand Touring "minivan". This vehicle is considered a minivan, but its smaller size allows for lower pricing with still included great features that come standard. One of these features, which also make it great for road tripping, is its ability to seat a family of six while still getting 28 highway MPG.
The Mazda5 even comes with luxury features like leather seating and heated front seats (these will come in handy traveling through the Rockies). All of these great features make the vehicle priceless to a family of travelers, but Mazda was nice enough to only affix a price tag of around $25,000 on this great automobile.
5. GMC Acadia SL
With a price tag just shy of $35,000, the GMC Acadia SL is a bit pricier than the other vehicles on this list, but there are several good reasons behind this. The Acadia can comfortably seat up to eight people, and the third row leg room in the vehicle surpasses thirty-three inches. There are 24.1 feet of cargo space in the Acadia, but if the third row seating is folded down, this number jumps to nearly 45 feet.
The Acadia also scored very well on national crash tests and comes equipped with six airbags and included stability control. This is all great news, but there's one last thing that will drive road trippers up a wall. The Acadia has a highway range that approaches 530 miles. This means that a family of eight can leave Savannah GA and show up in Los Angeles CA after only stopping four times once on the road.
Driving cross-country is an American pastime, so for those who love doing it repeatedly, it's likely a good idea to have a vehicle made for these trips. While "Great Road Trip Vehicle" isn't likely included in these vehicles' advertising points, that's exactly what a buyer will get when they decide upon any of the aforementioned automobiles.
Would you like to receive similar articles by email?