Technology Behind the Wheel: The Changing Face of Car Pooling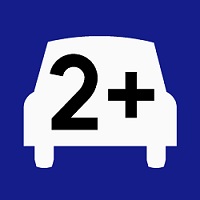 A variety of factors are changing the way people think about how they get to work. Rising gas prices in a difficult economy, the challenges of parking and maintaining vehicles in dense urban areas, and the rise of social media use within all demographics are driving people towards more creative means of commuting. From the simplest option of advertising rideshares on craigslist.com, to full mobile apps like ZimRide or Avego Driver, to dedicated national and regional websites with tens of thousands of shared ride listings, there are many ways of organizing carpooling opportunities.
Social Media Influence
With the advent of social media, the stigma of meeting strangers online has been removed to a great degree. Peoples jobs, lives, and families are on public display and it is simple to research someone you want to ride with. There are always concerns involved in riding with strangers, but that is the case regardless of how one met that individual. A certain level of responsibility is inherent; someone who can keep a job, maintain a car, and is savvy enough to use a website of that nature is likely to be a pretty low risk. Riding to work can become more than just a chore, instead transformed into an opportunity to network with coworkers and make new friends.
A Smartphone in Every Pocket
Using mobile applications on smartphones has simplified this process dramatically, within seconds you can access a profile of a potential ride partner, schedule a time to meet, and chart your destination to calculate the cost. Some applications even do real-time ride sharing; just punch in a location and a destination and you can get matched with someone in your area in moments. Just a few years ago, although most people had cellphones, smartphones were not commonplace. Now, more than half of American cellphone owners have smartphones and this percentage is increasing on a daily basis.
Ecological Impacts
Ecological consciousness is also a major consideration for many Americans when it comes to carpooling. In cities without efficient public transportation sharing rides is the best way to reduce ones carbon footprint. In addition to the impact of emissions, the opportunity to use carpool or HOV lanes in some cities allows for more efficient driving and fuel use. Even placing two people in a small car, rather than one, makes a meaningful impact when so many vehicles on the road are occupied by a single individual.
The Changing Economy
Possibly the most significant factor driving people to share rides is the economy. Gas prices have been volatile and increasing significantly in recent years, and even people in relatively comfortable circumstances have felt the impact. The changing US economy has driven even more people into dense urban areas, and parking is at an all-time high. In some cities the cost of paying for a place to park a vehicle is as substantial as the cost of the commute itself. Ride sharing mitigates this cost and benefits everyone by freeing up more parking spaces. Overall, the factors point to a bright future for ridesharing and carpooling via the internet. New mobile applications are being developed all the time, and local websites for organizing rides are available in many communities across the country. The more organized carpooling becomes, the more significantly the environmental and economic benefits will be realized.
Would you like to receive similar articles by email?