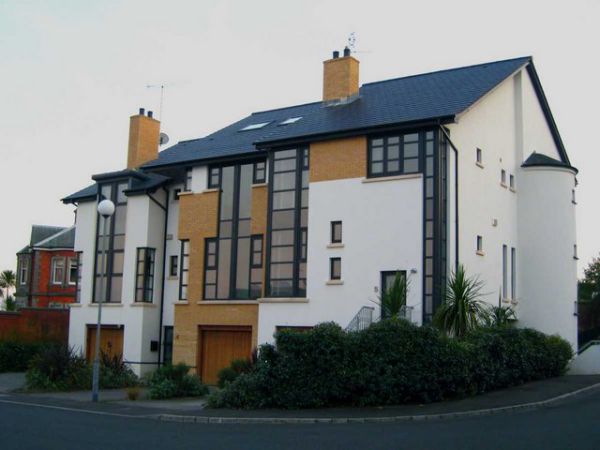 Modern house. Photo by Ross.
Hollywood has a lot of ideas when it comes to smart-homes, but what is actually possible and available to consumers these day? More than you might realize!
Walk on the Light Side
A lot has changed since Edison first invented the light bulb. Now, you can choose from compact fluorescent and LED bulbs that fit in your existing fixtures. In fact, Philips now makes bulbs that will last 20 years. However, lighting has developed in more ways than just energy efficiency and lifespan.
With controls like those from Decora and Lutron, you can dim your lights, create zones from multiple lights and control every connected light in your home from the main panel. Not only can you make sure to turn off lights after you leave the room, but you have control over outside lights, too. You'll never have to walk down the dark basement stairs because the light switch is at the bottom, either.
In fact Sunset.com highlights Lutron, which offers sensors that turn on lights whenever you enter a room, while the Lutron 4 and 8 series include car visor controls. You don't even have to be in your home to turn on the lights. Lutron processors automatically control lights based on the time of day, too. This company even goes so far as to operate electronic drapery and window treatment systems. All you need to do to block out sunlight is press a button. While Leviton's Decora systems are more basic, you still get remote operation of your lighting.
Update Your Outlets
If you have experience with wiring or have an electrician coming by anyway, why not install USB ports within your outlets. You'll never need an AC adapter for your phone, tablet, cameras or controllers ever again. Plus, you'll free up your regular outlets for appliances. USB ports are so small that your outlets can stay the same shape and size. Newer Technology is among the companies that sells outlets with USB ports for less than $15 per unit.
Cleaning Made Easy
Technology can also help you keep your home in spic-and-span condition with a self-powered vacuum like the iRobot or Roomba, which you can turn on and will run around your floors without you need to pay it any mind. Smart vacuum cleaners are great for pet hair, lint and small dirt particles, and they'll learn the layout of your house so you never have to worry about your cleaning machine getting stuck in the corner.
Money Saving Savvy
Tech-savvy homes don't just give you something cool to show off to your friends and family when they come over. Sure, technology offers a level of convenience that you wouldn't otherwise have, but using it can also help you cut costs. For example, smart thermostats allow you to control the heat and central air in your home from your smartphone. If you forget to turn down the heat, don't worry about a big electric bill. On the other hand, you can set your thermostat so your house is nice and toasty when you return from a cold winter's day. If you're looking for a specific brand, consider Nest.
Keeping Connected
Of course, your future home won't be complete without a high-speed Internet connection. Some people go so far as adding fiber optic wiring in their walls, but if that's not an option, cable or satellite. According to HughesNet, if you are not in a large city with multiple internet access you can still have this tech savvy capability in your home with a satellite provider. It's imperative to have internet access for online video gaming or movie streaming. A capable wireless router enables multiple devices to connect, provides storage on the network and even interfaces your printer with every computer in your home. It's a must-have but there are ways to get it for a great price.