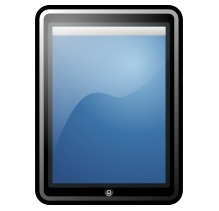 For the past three years, the iPad has had unprecedented technological control over the tablet market. Anyone who is serious about in investing in a tablet has turned to Apple to do it, while competing devices focused almost exclusively on consumers who wanted a tablet-like experience but at a much lower price. Generic tablets filled the market, each of them designed to be substantially cheaper, smaller, and overall inferior to the iPad. The Microsoft Surface marks the end of that three-year trend as Apple finally has a competitor offering a fully priced and fully loaded tablet. But which is the better device, and who is better off choosing which product?
Hardware Rundown
The iPad has not one but two flagships at the head of its fleet, the iPad 4 ($499 to $699), and the recently released and highly anticipated iPad Mini ($329.00 to $659.00.) The Mini includes an A5 dual core processor, half a gigabyte of RAM, a 7.9 inch display, 10 hours of battery life, sixteen to sixty four gigabytes of storage, and weighs just under seven tenths of a pound. Meanwhile, the iPad 4 offers a 9.7 inch display, an A6 processor of nearly twice the power, double the weight, and nearly identical storage options. No matter if you want a small and sleek tablet that fits right in your pocket, or a full sized tablet for your home, Apple has a model ideal for you.
But on the other side of the table we have the Microsoft Surface ($499 to $699), which includes a NVIDIA T30 processor, two gigabytes of RAM, a 10.6 inch display, thirty two through sixty four gigabytes of storage, and the latest Windows 8 operating system. Similar to the iPad 4, it weighs about one and a half pounds and includes nearly ten hours of battery life, but unlike the iPad it also offers an ergonomic and stylish keyboard screen cover that allows you to both protect your device and use its display simultaneously. This feature was one of the selling points for Oprah, who named the device one of her favorite things earlier this year.
So which one do you pick?
It doesn't take a computer scientist to see that the MS Surface tablet has significantly more powerful components than the iPad 4 and Mini. Apple's best iPad processor is nearly half as powerful on paper, offers one quarter as much RAM, and still costs virtually the same amount as the Surface even before you add a cellular plan. There's no denying that Microsoft's tablet has been designed as laptop replacement hardware, and if you need serious computing power on your tablet, the MS Surface is hands down your best option.
But Apple isn't beaten, and the Surface isn't an overnight victor over the tablet market. The iPad and the rest of Apple's products have gathered a cult following for one main reason; the quality of their design is so excellent that even though it's hard to see in the numbers, it is felt every time you use your tablet. The iPad won't run more demanding programs as well as the Surface, but how many users utilize such programs, especially when mobile software developers are incentivized to create applications for as many users as possible? As an Apple device, the iPad also has far more existing support in terms of available games and applications. So while the Surface may be able to compute like a laptop, the everyday tablet user may feel more at home with the tried and true quality of an iPad.
Would you like to receive similar articles by email?