The Jetsons are Jealous of Your Future Smart Home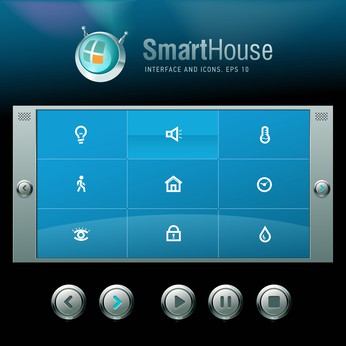 Smart homes have been a dream for many consumers. A George Jetson kind of home where you can control everything from small handheld devices and voice commands seemed like science fiction until very recently. Now it appears the pieces are all there, but now we find ourselves a bit overwhelmed and scrambling to get all of those tech features to fall into place.
Being able to control lights, locks and alarm systems remotely while the homeowner is at work or on vacation creates a greater level of security. The days of calling a friend or neighbor to check that your back door is locked are over. Soon, you'll be able to pull up an app on your smartphone, and check for yourself.
Hot and Cold
Programmable thermostats have been around for several years, but now, according to The New York Times, there are smart thermostats that learn your family's preferences. The thermostat notes when someone has turned it up or down and by how much. Eventually, it recognizes the pattern and begins to adjust itself accordingly. It can also come with a motion sensor so it knows when someone is home to start making adjustments.
Some of the latest thermostat designs are networked-enabled, allowing them to be controlled from a computer or smartphone. Companies are beginning to create home automation bundles that include things such as programmable thermostats. A review of security provider shows Xfinity now offers this as part of their home security solution.
Let There Be Light
Who knew you could improve on the simple light bulb? It's being done in some very high-tech ways. One such example is the iLumi, a crowdfunded invention. This is an LED light bulb with built-in Bluetooth capability. The bulbs connect to your home network. With a laptop, smartphone or tablet, you can control the lights to go on or off and set the level of brightness and the color. When out of town, you can program them to come on and go off at specific times, which can help prevent burglary.
Control Almost Anything Remotely
Other devices are being introduced that allow you to control anything that plugs into a wall outlet. TVs, radios, stereos, lamps, and even space heaters can be controlled from your smartphone or tablet. This flexibility means you can adjust your home's security parameters when out of town. Did you forget to set up that light timer in the living room before you caught your flight? Not a problem, as you can check it from your hotel room, and set it up from there.
Some of the latest technology includes remotely controlled door locks. Home security services, such as Vivint offer packages that include the ability to monitor and control your home's door locks from your smartphone. This is the ultimate in home security automation, as it gives you the ability to do a virtual walk-through of your home every night before you go to bed.
Just Say It
A final bit of sci-fi home automation becoming reality is the voice-activated home. A voice-controlled system allows you to tell your home to adjust the temperature, turn the lights on or off, and lock the doors.
The smart home is not just a sci-fi future dream after all. Watch, before you know it, your home environment will be automated via smartphone. It's enough to make George Jetson a little envious.
Would you like to receive similar articles by email?