German Users' Data Compromised Due to Botnet Malware Attack
16 million German users suffered from a Botnet malware attack whose digital identities had been stolen. The data was linked with Facebook accounts, mail accounts, Amazon accounts, and other online services. The attack was revealed when Germany's Federal Office for Information Security (BSI) ran a Botnet analysis.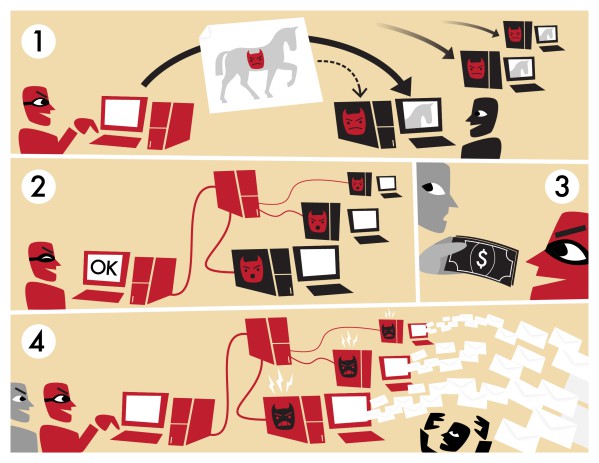 Diagram by Tom-b explaining a botnet attack.
As per German law, BSI cannot send emails about compromised accounts to users until they ask. BSI Spokesman Tim Griese announced that they invited users to check their accounts against a list of hacked data by sending their address to the BSI website. This website allows users to enter their email address and check whether the mail account is hacked or not. Half of addresses were from the ".de domain", referring German based accounts and the rest of addresses were from French .fr and .com.
BSI created an online tool to avoid this problem, and tried to bring awareness about online security. Tim Griese added that BSI would not reveal any information about hacked accounts during investigation. Griese said, "We can't tell more about the background".
BSI also added that cyber criminals steal user's confidential data, use their credit or debit cards. Users should check their PC for malware and should change passwords at regular interval.
It is an embarrassing moment for not only German users but also for web savvy users from all around the world that they are helpless against emerging cyber threats. No one knows when he/she would be a victim of these cyber culprits. We might not find a safe corner in the Internet in the near future, if steps are not taken to prevent this.
Would you like to receive similar articles by email?