Drones: Meet the Hardworking Robots of the Sky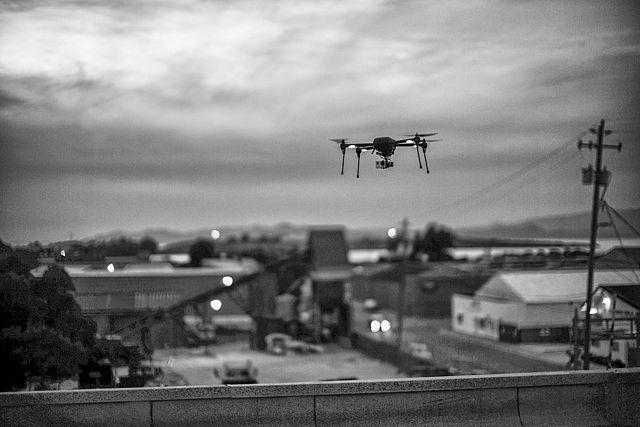 Whether it's lighting up the night sky above the Houston NRG stadium at this year's Super Bowl or shooting rare video with a bird's eye perspective, drones seem to be everywhere now.
Unmanned aerial vehicles, or drones as they are more commonly referred to, were also one of the most coveted gifts this past holiday season.
While the recreational possibilities offered by this technology are often talked about, drones are also hard working machines that have helped make a number of industries, like the oil and gas industry and security industry, more efficient and safe.
One way drones are making it safer for people to do their jobs is in the area of search and rescue. Whether on land or at sea, drones can cover large areas remotely and transmit the information they collect back rapidly.
In 2016 as well as earlier this year in 2017, drone technology played an instrumental role in working to locate lost skiers and snowboarders in the mountainous terrain of British Columbia. Able to traverse areas too dangerous for humans, the drones equipped with heat seeking sensors accessed remote areas safely and helped to locate the missing.
Getting drones up and integrated in search party efforts isn't only safer, it's extremely time and cost effective. Instead of waiting for the nearest helicopter to get to the scene, drones can be deployed quickly — and for less cost.
This potential has been especially interesting to law enforcement, who, aside from search and rescue, can use drone technology in a number of risky situations. For smaller police forces and organizations, the technology is proving invaluable.
"It is going to save tons and tons of time," said Sudbury Police Chief Paul Pedersen.
The chief went on to explain: "Imagine a car accident scene or a crime scene. Normally, it takes hours for our officers to map out those scenes. Just with crime scene mapping, there's just a whole bunch of uses that are going to save us hours and hours of time and translate to dollar savings for our community."
Despite the various uses that drones present for law enforcement and search and rescue teams, they have been limited by their ability to only work during daylight hours. While drones have been equipped with lights and infrared sensors in the past, an intense, bright light source is needed to conduct rescues at night or survey areas.
Earlier this year, Draganfly Innovations, one of the leaders in designing and manufacturing innovative drones, announced a partnership with SureFire to incorporate and test an optical lighting technology with Dragnfly's drones.
The agreement will see SureFire's dual beam, optically enhanced 2000 Lumen unit integrated completely into the Draganfly Commander, an unmanned aerial vehicle that has been used in search and rescue and safety operations.
"We are ecstatic to be working with SureFire on this initiative," said Cameron Chell, CEO of Draganfly Innovations and serial startup entrepreneur. "Helping our customers extend their ability to perform critical operations during the night is very compelling."
Cameron Chell also pointed out that the new system will be helpful in terms of nighttime videography and surveying.
Another company taking drones to the next level is Land Rover. Partnering with the Red Cross, Land Rover announced Project Hero, an upcoming development that uses a modified Land Rover Discovery and drone for search-and-rescue missions. The drone, which is attached on a platform to the roof of the vehicle, can be launched, communicated with, and retrieved remotely without exiting the cab.
The modified-SUV unveiled at this year's Geneva Motor Show was the culmination of work between the Jaguar Land Rover Special Vehicle Operations division and the Austrian Red Cross.
The two very different organizations came together last year to design this very special search and rescue vehicle, showing the vast capabilities drone technology has to offer in the area of recovery and rescue.
Drone Flying Photo by Christopher Michel. License: CC BY 2.0.
Would you like to receive similar articles by email?