How to Keep Your Children Safe on the Internet?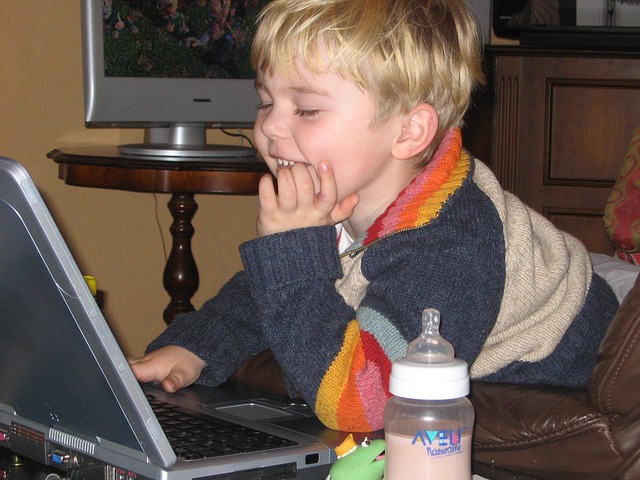 These days there is very little left that does not require the internet for its proper functioning. If a kid has to submit his/her project, they need the internet for preparing the best project for their school. Even to name a baby, parents look for the internet to search the trendiest names. After this the question that always keeps me unstable is with everything available on the internet how can we make our kids save from all the inappropriate things. You cannot stop them from using the internet but how will you find out if they are using it the right or wrong way. Children do not know about viruses and various other things that could harm your computer in seconds if clicked wrong.
Parents are always worried about their kids and no parent wants their kids to go in a wrong direction. You cannot stop your kids from doing anything but yes you can always guide them to do things correctly. This will make them boost their confidence as well as help you in keeping your kids under your eye. Discuss with them, help them and set some rules and many more. We can discuss a lot more on how you can keep your children safe from the world of harmful internet practices.
Well here are some key points that can help you in keeping your kids safe online. Let us discuss them in detail.
1. Discuss Security with them at an Early Stage
When you talk to your kids obviously they have doubts about the internet or anything they perform online, make sure that you discuss with them all about online safety. They may even now be using the computer with you or by their own and this offers a chance to highlight the fact that the online world parallels this present reality and that there are both safe as well as unsafe things out there. It also helps you to examine the things that are there to secure us, e.g. web security, passwords, and so on.
2. Do not Make Friends Online
The general trend says it is good and fine to make friends online and people feel comfortable making friends online as they can hide their loopholes online but this is risky. Even as an adult you should avoid making friends online and also advise your children do not do such things, because if you cannot make friends face to face, you cannot make friends online. Actually it's completely on luck, you are fortunate if you get good ones but by mistake if you make friends with the wrong people, you could get into trouble. So better avoid!
3. Teach them to Be Smart Enough
Kids use internet and make friends online. Even if you make them understand your point they will make friends at some extent. So make them smart enough so that they could deal with such people easily. Make them independent and make them in charge of their lives and ask them to handle it on their own but with a faith that you are always with them. This will boost up their confidence and will make them smart enough to deal with their problems.
4. Set House Rules
Decide the amount of time you're agreeable with your youngsters being online and which sites they may go to. You may post a short rundown or even a marked contract (like the free ones at safekids.com) alongside the machine. So there's no confusion, discuss the guidelines – and the outcomes for breaking them. For example: "according to our home rules children are permitted only thirty minutes to use their systems". Give one child Mondays and Wednesdays, and alternate Tuesdays and Thursdays to other. At that point they get one hour each on the weekend. You can allow them to visit particular sites with extraordinary consent. Any others must be endorsed by you or any other person.
5. Know about their Cyber World
Folks need to get involved. Pretty much like they know each and every detail of their interest about play area around the bend – the jungle gym, the swings – they have to know their children's online play area too. It might be difficult to keep your eyes open after looking at what appears like the 100th site about Barbie; yet playing copilot with your youngster is the most ideal approach to verify that she gets a smooth ride. When she's 7, you won't have to be stuck to her side; however you need to be at some place in the room or looking as possible.
6. Teach them to Protect their Privacy
While they won't completely comprehend the outcomes of revealing individual data on the web, you have to teach your kids with some points like:
Never give your name, telephone number, password, email address, postal address, school, or picture without your consent;
Not to open any email from individuals they don't know;
Not to react to harmful or disturbing messages;
Not to get together with anybody they "meet" on the web.
Given are the points that you need to take care of while your kid is playing online. It is not difficult as such to save your child from online threats but still keeping an eye and teaching those good deeds can help you a lot.
Would you like to receive similar articles by email?