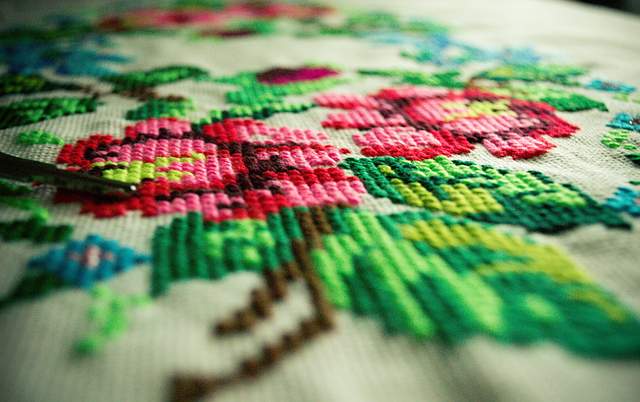 Gone are the days of hand designing embroidery patterns – embroidery software is here to help speed up the process, so you can move on to the fun part: actually embroidering. There are tons of programs out there, some that are free to download and some that must be purchased. Use this helpful guide to find the embroidery program that is right for you!
Embrilliance Essentials
First up are the Embrilliance suite of embroidery software programs. These are high quality, multifunctional programs that are great for the serious artist who does a lot of embroidery.
When it comes to embroidery design software, Embrilliance Essentials is the highest rated program on the market. Embrilliance Essentials comes on a CD-ROM and is unique in that it can be installed and used on both Mac and PC platforms. The programs it creates can also be copied to flash drives and floppy disks, so they can be opened on any computer and computerized sewing machine, no matter how old.
Anyone with basic computer skills should find the Embrilliance software relatively easy to use. For those who need a little extra help, or just those who want to learn about all the bells and whistles Embrilliance comes with, there are a plethora of helpful online tutorials.
Although Embrilliance Essentials is the basic package from Embrilliance, it covers most people's needs. It can be bought from Amazon for $139.00, and most serious embroiders consider it well worth the price. Some of its features include designing custom lettering and fonts, and the ability to merge and resize designs. For those who want a little extra, Embrilliance has a few other packages to offer.
Embrilliance Alphatricks
As the name suggests, this additional Embrilliance package is great for incorporating text into your design programs. Normally adding text to a design can be a painstakingly long process of trial and error, but not with Alphatricks. It can recognize and automatically correct letter size and spacing, so they fit properly in the design.
Alphatricks has gotten rave reviews – but there is one common complaint: many found the instructions hard to follow and had to rely heavily on online tutorials. Overall, most would agree that if they needed something beyond the Essentials package, Alphatricks was perfect. It can be used on both MAC and PC and currently is sold on Amazon for $94.99.
While both Embrilliance products come highly rated, they are not the only company on the market. Here are two other programs that have 5-star ratings:
PED Basic
The PED Basic software is a good software for those who are new to using computers or computerized embroidery machines. It is less of a design-your-own software than the Embrilliance products. PED Basic software comes pre-loaded with many editable designs and has some basic design functions outside of those. The PED Basic software comes on a CD-ROM, and the package also comes with a USB card reader and writer as well as an instruction manual.
The biggest downside to PED Basic is that it only works on PCs; it is not compatible with MAC computers. Aside from that, it is rated very highly and is currently on sale on Amazon for $80.16.
Buzzword 2 Embroidery Lettering and Layout
This software is similar to the Embilliance Alphatricks software package in that it only does fonts and text. The Buzzword 2 software comes with 49 fonts and more than 40 fill patterns. Buzzword 2 also lets you import images and arrange designs to incorporate text you've designed in the program into other patterns.
Buzzword 2 comes on a CD-ROM and has a 5-star rating on Amazon. Many people say it was very easy to use, but it is considered a little pricey for its limited range of functions when compared to other programs like the Embrilliance suit. Buzzword 2 is currently sold on Amazon and goes for $139.95.