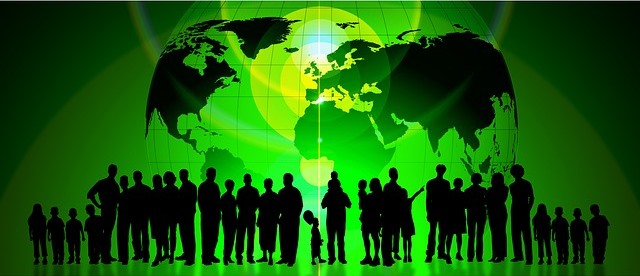 What does it mean to go "green"? Have you ever wondered? In case you haven't thought about it seriously till now, well, I would have started by saying that going "green" today is not a lifestyle choice; it is rather the only way for a sustainable future. A future where every single one of us will actively participate in the creation of "green" environments in the houses we live in, in the offices we go to work every day and, last but not least, in the public spaces available to all of us citizens.
Going "green" in your personal life presupposes the fact that you are aware of the benefits of a "green" lifestyle: namely, saving money while working indirectly for the common good by protecting the environment. Apart from the actions we could take in order to make our homes friendlier to the environment by reducing its carbon footprint for example, it is of immense importance to focus also on the spaces we work in, and here I mean the office.
So what is it, other than paper recycling that makes an office a "green" environment, you might wonder… Well, for starters, better make it a habit to turn off the lights when you decide to leave a room! Or, in case you are usually negligent with these little things of everyday life, why not invest in motion sensors which can do the job for you? Check out this green office PDF guide, it is clear that in this case details matter; if you want to turn your office space into a "green" zone you must start from the beginning and the way we choose to light a room is essential.
The moderate use of paper in an office is probably even more important than saving money by using energy-efficient light bulbs. If a company reduces the use of paper, then it reduces its costs in the first place! By using recycled paper you can actually save a big deal in water and energy and save some trees, of course, at the same time. One should be more ambitious concerning this issue, though, given the fact that we can simply choose differently, not to say wisely. Using recycled paper sounds like a relatively good idea, just like printing on both sides of the paper as well.
What about fostering a "green" work environment by the use of PDF files, though? As a matter of fact, companies should have already given priority to digital solutions by directing their employees to transfer informational material and data online rather than exchange print copies. If you want to edit text PDF you might find it easier than trying to do the same thing on paper, don't you think? One should only take advantage of the available PDF software that makes our lives easier; Soda PDF is certainly a strong candidate. With Soda PDF you can edit the text, insert hyperlinks or images, convert your files and, of course, review them in a number of ways that make the procedure of keeping notes on a paper a distant and uncomfortable memory. In other words, the next generations are destined to go "greener" also due to technological advances.
Let me give you some scary data now: did you know that computers in the business sector waste $1 billion worth of electricity in a year? If you have the stomach for it, see this green art PDF paper using your PDF reader for more details. Sounds extreme, but true! I guess that must make you think it over next time you leave on your computer in the office thinking that screensavers will do the job for you… Moreover, it wouldn't have been a bad idea to consider replacing desktop computers with monitors, as the latter use much less watts.
There are various ways in which to turn your office space into a "green" friendly space. Most importantly, companies must follow closely the developments in the information technology field that seems to direct to a digitized future where costs will be reduced and efficiency will be greater.
There was a time when the use of paper fueled a revolution in knowledge (I'm referring to the printing revolution of the 16th century in Europe). Today, our priorities have changed, as our future can only be "green".