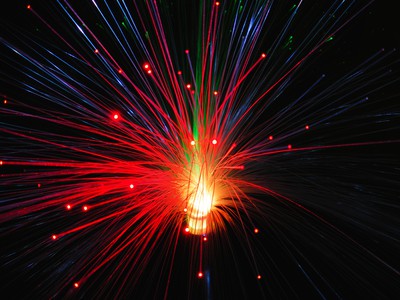 In April 2013, Google and the city of Provo, Utah announced that the search giant would be taking over the city's $39 million fiber optic network for a single U.S. dollar, according to Mercury News. Because of its status as a worldwide Internet power, attention is on Google as it moves forward with plans to install or take over fiber optic networks in U.S. cities. However, Google is far from the only player in the fiber optic field, especially when the worldwide stage is considered.
The U.S. Picture
It is sometimes easy to forget that Google isn't the only player in the American fiber optic network game. In fact, Google is currently serving only two U.S. cities, with plans to serve parts of a third by mid-2014, according to it's Fiber page. In contrast, Verizon currently serves 30 cities in 11 states. Several other providers offer fiber optic Internet service in at least some parts of their coverage zones.
Fiber optic access is currently limited to cities in the U.S. It costs $15,000 per mile on average to lay fiber optic cables for use in rural areas, and providers are reluctant to put in the cash for a relatively small payout. All in all, according to the New York Times, approximately 20 percent of U.S. households have access to fiber optic Internet.
The STRAUSS Project
In a research endeavor that is the collaborative work of the European Union and Japan, the STRAUSS project aims to bring Internet to the people of these countries at a speed 5000 times the current average. The goal is that fiber optic Internet networks will be enabled to run at 100Gbps through the STRAUSS project's installations and upgrades. STRAUSS itself is one part of a six-project endeavor involved in retrofitting the digital security, accessibility and energy use in the participating countries. The entire group of six projects is being funded with approximately €18 million, according to Tech Beat.
Households in Japan already have much more access to fiber optic Internet service than those in the U.S. Approximately 86 percent of Japanese households have access to this type of Internet service. The 28 countries of the EU vary widely in the penetrance of fiber optic Internet options. Lithuania, the leader of the pack, boasts a 100% penetrance rate. Germany and the UK failed even to make the bottom of the rankings, falling under 1% penetrance. In the UK, fewer than 0.1% of households have access to fiber optic Internet.
New Breakthroughs in Fiber Optic Technology
Scientists at Boston University and USC recently published work that shows how fiber optic networks can potentially be improved to carry even more data than they already do. In June of 2013, scientists Siddharth Ramachandran and Alan Willner announced that they had succeeded in stabilizing fiber optic technology made with a type of light beams that have traditionally been seen as too unstable for practical use in data transmission. Their Orbital Angular Momentum (OAM) fibers have demonstrated a terabit-per-second transmission capability, as Science Daily reports, and Ramachan and Willner believe that the fiber can transmit at speeds as high as 1.6 terabits per second.