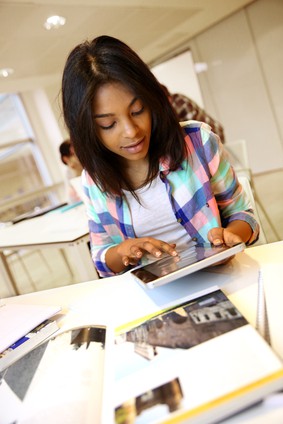 Your parents might not have expected a non-traditional student such as yourself to go to college, but you're showing them. Online education, once a novel idea, is now the norm and the perfect fit for an original individual such as yourself. It's liberating to take classes at your own pace and as your schedule allows. When it comes to education, however, flexibility such as that can have its pitfalls. Although you don't have to attend a scheduled class, you still have deadlines for assignments, and you still have to prioritize and organize to manage time constraints and conflicts between classes. Thankfully, app developers were students once, too. They've come up with a treasure-trove of apps to help the online student study, organize, and essentially make the grade.
Take Note
Communication between students and online instructors takes place in chat rooms and emails. You may have the occasional webcast if your instructors are fond of lecturing, but you'll mostly deal with electronic documents, such as PDFs. That doesn't excuse you from note-taking. It just changes how you do it.
IAnnotate is the online student's fairy godmother. It makes monstrous PDFs searchable, editable, mark-able and overall manageable. The app comes with a $9.99 price tag, but with all those capabilities, it's worth it.
Once you've got those notes, make studying a snap with StudyBlue for iOS and Android. The basic app is free, and its specialty is creating flashcards from your notes so you can review materials on your smartphone or computer.
Putting a Method to the Madness
One thing that can be most challenging for any student is organization. Spend just $2.99 for iStudiezPro for iOS, or kick in another $9.99 for a MacOS version, so you can sync data between your smartphone or tablet and your desktop. This little gem of an app will help track assignments and tasks, monitor your grades, and help you meet deadlines.
An equivalent version for the Android is Studious. This one is a freebie, and it does a lot of the same things the Apple app does, such as tracking your class schedules, helping keep homework deadlines, and storing notes.
Looking for an app for both iOS and Android? MyHomework fits the bill, tracking your deadlines and class schedules, and students who take classes online through universities such as Penn Foster, whose instructors use organization tool Teachers.io, can use the iOS version of MyHomework to sync syllabi and resources with the app.
Your Research Partner
No matter how education evolves, it's unlikely you'll get out of having to do research. At least you have access to apps that can take some of the pain out of the experience. Basic Library Anywhere is a free app for Android, BlackBerry and iOS, with a paid upgrade available. It brings searchable catalogs, hours and floor plans from libraries the world over right to your computer or smartphone.
Once the research is over, iSource MLA comes in handy for correctly citing your sources. True, it's only available for iOS, and it's not a freebie. But at $3.99, it isn't the most expensive app you've ever downloaded, and considering it formats your sources, it's worth your iPhone's weight in gold.