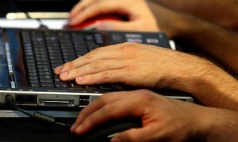 Celebrities, companies, and agencies have frequently been in recent news as victims of identity theft or impersonation. One of the most recent, hackers compromised Twitter accounts of The Associated Press, sending out a false tweet about an attack at the White House, and that President Barack Obama was injured. The NASDAQ dropped subsequently amidst the temporary panic. Legislators are extremely concerned about these attacks, and are attempting to find ways to thwart them.
Cyber Intelligence Sharing and Protection Act
The Cyber Intelligence Sharing and Protection Act, also known as CISPA, is the highly controversial bill that passed the U.S. House Of Representatives on April 18 by a 288 to 127 margin. It would allow employers to demand the Facebook passwords of their employees and potential employees. Some supporters say this type of legislation is completely necessary to protect against "unlawful intrusions," Chicago Now reported. Internet watchdogs have also responded, shooting back against what many believe is a blatant attempt to give the U.S. Federal Government, as well as private sectors, the right to spy on Americans without any due process.
US News & World Report reported on an "emerging trend" in today's job, which employers ask potential employees to reveal their social media passwords before offering a position. The Maryland Department of Corrections, for example, recently began requesting social media passwords from their applicants. Those who refused were subject to allowing hiring personnel to stand over their shoulders as they logged into their accounts themselves. The state of Maryland has already responded, passing groundbreaking legislation, which makes these types of practices unlawful.
The Responses
In response to these types of hiring practices, Rep. Ed Perlmutter, D-Colo., proposed an amendment to CISPA which would eliminate these practices. Some of Perlmutter's colleagues, particularly Mike Rogers, R-Mich., pushed back against the measure. Rogers, one of CISPA's sponsors, said the amendment was "nothing more than an attempt to kill the bill" and suggested Perlmutter introduce these concerns in separate legislation. Perlmutter defended his amendment, stating that this legislation was similar to a bill passed years ago which denied employers the right to give polygraphs to potential employees.
President Obama Threatens to Veto the Bill
President Obama has threatened to veto the bill if it reaches his desk. The Senate, however, has already said there will be no vote on the bill anytime soon. Obama has expressed concerns about CISPA's threat to American civil liberties. There are also concerns about discriminatory hiring based on Facebook content. Most Americans, obviously, want to eliminate hackers from wreaking havoc upon the web, but also want to feel secure in conducting business and personal transactions online. There is a fine line between security and invasion of privacy, which Congress has yet to accomplish in legislation.
Photo by Flickr user José Goulão.