The Panasonic Lumix LX7 is a camera that was launched in July 2012 as a replacement for the previously popular DMC-LX5 camera. This camera features a large sensor compared to other point and shoot cameras. It offers 10.1 megapixel resolution, along with 2.7x zoom lens as well as 3 inch screen.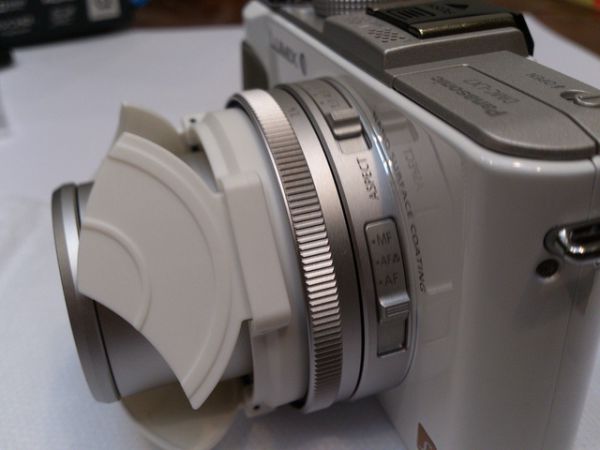 Photo by Kenming Wang.
Design: Like the earlier Lumix DMC-LX5 camera, the latest Panasonic Lumix LX7 has quite a large body for a point and shoot camera. It measures 2.6 inches x 4.4 inches x 1.8 inches and weighs 10.6 ounces. This premium camera has been designed for photography enthusiasts. With a metal exterior, the camera has a sturdy yet compact feel to it.
Features and controls: The Panasonic Lumix LX7 boasts of one of the fastest lenses on a compact camera. The lens has an impressive aperture range of F1.4 to 2.3. This lets in greater amount of light compared to what is usually found in compact cameras. With the fast aperture range background blurring is also dramatically improved. The lens has Nano surface coating from Panasonic and this contributes towards reduced flare as well as ghosting.
The LX7 also has a new 'High Sensitivity MOS' sensor which results in dramatic improvements in video specifications, and the camera can capture full HD videos in MP4 or AVCHD progressive formats. The lens is capable of zooming as well as refocusing during the recording. The sensor as well as image processor for the camera has been improved guaranteeing less noise during high sensitivities. The camera has 70MB in-built memory and can take SDXC, SD as well as SDHC cards. The battery life for the camera is approximately 330 shots. The camera also has a flash that manually pops up on pressing of a small lever located behind the top panel.
The Panasonic Lumix LX7 also boasts of high 920k dot resolution screen that has anti-reflective coat. The screen automatically adjusts to ambient light. Other fabulous features in the camera include presence of stereo microphone, time lapse shooting as well as creative controls feature. The camera has ample physical controls and it also has an old school aperture ring surrounding the lens. The camera has other standard controls including, on/off button, shutter release, zoom, movie button, etc. It also has buttons for autofocus, review images, exposure lock, etc.
Performance: The Panasonic Lumix LX7 has a shutter lag of mere 0.1 second, with burst shooting up to 11 frames/second. The image quality of the camera is quite good with decent level of detailing in the images. The camera delivers exceptional close focusing results and is particularly suited for shooting images in low light. On the whole the camera delivers excellent images below ISO 1600 and images at or above ISO 1600 may lose their clarity slightly. The autofocus performance of the camera is excellent. Perhaps one of the most impressive aspects of the camera is its exceptional video recording feature. Check out one of the highway video recording of Panasonic Lumix LX7 Vs GoPro Hero2:
The video recording in AVCHD format is incredibly smooth, with rich detailing and crisp colors. With the Lumix LX7, Panasonic has managed to create a fine tuned camera with excellent usability.