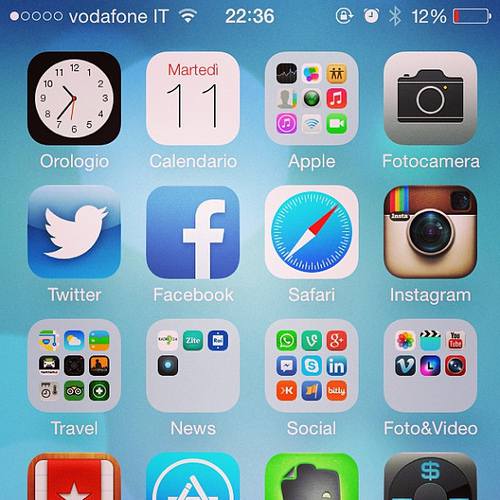 Apple has finally revealed details of iOS 7, due to release to consumers in the fall. Renowned for their product secrecy, Apple finally gave their fans a sneak peak at some of the company's upcoming plans at the "All Things D" conference. Addressing an excited crowd on May 28th, Apple CEO Tim Cook covered iOS 7, Apple's "grand vision" for TV, and a few other plans for the company. Just a few weeks later, on June 10th, Apple offered pictures and videos of the interface and details on the improvements. Photos and videos are available to view at Apple.com and the results are impressive.
Changing the TV Market
Many Apple fans are wondering if the company plans to change the TV experience. According to Engadget.com, Cook kept the most important details on this matter to himself. However, he did admit that the current TV-watching experience needs an overhaul, and he expressed "great interest" in the market.
The way consumers watch TV is already changing thanks to streaming content providers like Netflix and Hulu, reports Directtvdeal.com, but in spite of these changes, Cook claims the experience is still too similar to the way it was ten or twenty years ago. He continued to explain that most people do not love the TV-watching experience. He then called the current market "outdated" and announced that he has a "grand vision" for it. Unfortunately, he refused to elaborate on these ideas, but his comments have made many people wonder if Cook has the secret recipe that will make people love watching TV again.
The Apple TV
To date, the Apple TV is the company's most significant foray into the TV world, and currently, Apple has sold 13 million of them. According to Engadget.com, the company has achieved these numbers without even marketing the product. Sadly, according to USA Today, the system does not allow consumers to play games, and it lacks the ability to respond to user commands delivered by voice or gesture.
When discussing iOS 7 at All Things D, Cook was as equally vague about it as he was regarding the company's possible expansion into the TV market, but he explained that the main focus of the development process was to expertly blend hardware, software, and services in the new operating system. New VP and design guru Jony Ives was an important leader in the development process, and his contributions to the system's development, according to Cook as quoted by DigitalTrends.com, was the critical element in combining these three ingredients successfully and effectively.
Speculations for the Future
Straight answers from Cook may have seemed like a luxurious commodity at "All Things D", but his answers gave analysts just enough info to help them speculate about the company's future. According to BusinessInsider.com, rumors abound that the company is going to release its own TV with built-in iOS-inspired software, but no one knows for sure.
It's virtually impossible to predict what direction Apple may take, but USA Today speculates that they may try to battle Xbox for control of the living room. Xbox One's Kinect allows users to have a multimedia experience that can include everything from video chats to watching TV to playing online games, and most importantly, it lets users do all of this at the same time.
In order to win this fight, Apple needs to create a console that adds gaming, its own controller, and a few other features to the current Apple TV. Whether or not Apple is up to the challenge remains to be seen, but the more important question is probably whether or not they are even interested in the battle.