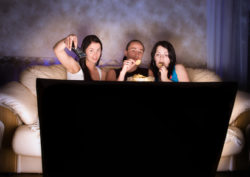 Technological innovation has always shaped how entertainment is delivered. From the AM radio to streaming on your smartphone, the way you consume entertainment is continually in flux. As HBO's Chief Technology Officer Bob Zitter admitted in an IP&TV News interview, "Technology remains the major catalyst for change in the TV business." The emerging competition between cable TV and online streaming services echoes this sentiment, each of them jockeying for position as the dominant force in entertainment. How is this battle shaping up? What does it mean for the cable-TV industry and steaming services? What can you expect to see as a consumer? Now, more than ever, cable subscription sites are offering bundle packages to compete with internet streaming services. Time will tell as to which format survives.
Emergence of Streaming Services
The trends of entertainment delivery are decidedly on the side of the streaming services. While cable TV is still the industry standard, streaming sites, such as Netflix, are gaining ground and becoming major players in the entertainment market. According to TechCrunch, between 2010 and 2011 video viewing online increased 40 percent to include a 100 million regular online video watchers. Netflix alone is responsible for about 35 percent of all streaming bandwidth on the Internet. More and more viewers are watching less cable or no cable at all in favor of streaming services. This, as one would expect, has had reverberations across the entertainment market.
Streaming Services Get Exclusive
Streaming services, such as Netflix and Hulu, have already established themselves as players in the entertainment market. They see their next step forward as taking on what cable companies do best – airing exclusive or original content. With an eerily similar business model as HBO, Netflix is trying to shift from being simply a source for pre-existing movies and shows to a website that people go to for originally produced content. Netflix is banking on shows like "Lillyhammer," "Arrested Development," "House of Cards," and stand-up comedy specials to drive the push for new viewers and the retention of old viewers. Hulu is taking a similar approach, announcing new Hulu produced shows, like "Up To Speed" with Richard Linkletter and "Spoilers" with Kevin Smith, as well as buying the exclusive U.S. rights to broadcast certain shows, such as "Misfits" and "The Rev." It's hard to argue with this approach when seeing HBO and Showtime's success with their original content of shows such as "Sopranos," "Dexter," "Boardwalk Empire," "Game of Thrones," etc.
Cable TV Streaming Options
Cable TV isn't taking this assault on their viewership lightly and has begun flexing its substantial muscle to retake the streaming audience. HBO, DirectTV, ComCast, and Time Warner Cable are all offering streaming services to televisions, computers, and smartphones as part of, or in addition to, their regular services. Their hope is to take a chunk of the ever-growing streaming market by giving consumers more options in how to see their content. Cable channel juggernauts, ESPN and Viacom, are now offering content online only if you have a cable subscription. This motivates consumers to keep their cable subscription while allowing them freedom and ease of streaming content.
It's clear that linear TV watching is becoming outmoded. Statistics regarding increase of online streaming of video content and the decrease of cable viewing show the sea change occurring in how we consume entertainment. The question of who will get the upper hand and how they will do so is still up for debate, but the winner in all of this is the consumer who has a growing list of ways they can watch the content they love.