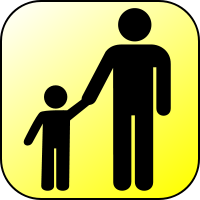 There is nothing more enjoyable than seeing a smile on your child's face. If you are planning an upcoming trip with your little one, chances are you are excited to experience a new part of the country with your little one doing things that the whole family will enjoy. Family vacations are a great time for the entire family to bond. But during the first leg of your trip, when you are driving to the airport, sitting at the gate, and sitting on the plane, your children are bound to get extremely antsy. If you are looking for a way to keep your children occupied while you are en route, use your tablet or iPod to your advantage. Find out why you should download children's apps and which apps are the most popular by reading on.
The Benefits of Downloading the Latest Apps For Children
If you have ever been on a long car ride with your children, you know that after just about 30 minutes on the road your children will start incessantly chanting "Are we there yet?". When you are only starting the first leg of your journey, hearing this question can be a sign of how the next several hours is going to play out. As you may know, children have extremely short attention spans. They like to stay busy and cannot stand being confined in a small space where they cannot run out all of their energy. There is a solution to your potential problem- downloading must-have children's apps.
Most parents today have some sort of tablet or smartphone. If you have an electronic device where you can download apps, this will be your solution to keeping your children busy when you are on the plane, bus, boat, or taxi. Children's apps are appropriate for little ones and often have some sort of educational value. Some apps encourage creativity, others are fun while still intertwining academics into the games and activities. With children's apps, hours will fly by in what seems like minutes. You might have to give up your tablet for them to be happy but it is well worth the alternative option.
Some of the Best iPad and Android Apps for Children
There are a number of different Android and Apple apps that were designed specifically for children. Here are some apps you should consider downloading before you depart:
Instagram: Instagram is a great app for your children to use to document the highlights of their vacation in their own point of view. With this app, your children can take pictures, edit them, and then share them with the entire family in the press of a button.
PBS Kids Video: If you do not want your little one to miss their favorite PBS shows, give them access to over a thousand different videos with this Apple app. Not only will this help kill a lot of time, it is also free.
Viator Tours and Activities: This app is available Apple devices and is completely free of charge. It is the perfect traveling app because your children will have the opportunity to participate in what the family will be doing. The app includes more than 9000 different tours at 750 different destinations and also has pictures.
Kids Maps: You can make geography fun for your children with this app while you are exploring the world. This app is available through Apple and Android and is a great way to encourage your children to learn.
Let's Color!: It is not convenient to bring coloring books and crayons on a plane. If your child loves to color to pass the time, Let's Color is a must-have app for the iPod or iPad. This living and breathing coloring book lets your child be creative and also turns the finished picture into an animated scene.
My Playhome: My Playhome for the iPad and iPod is a virtual dollhouse and an open-ended game. If you are looking for any type of game that will not upset your child, go for one that does not have scores or power-ups.
As you can see, your tablet or media player can be a lifesaver on a long trip. Make sure that your children are all smiles before you arrive to your destination and you will be happy you did.