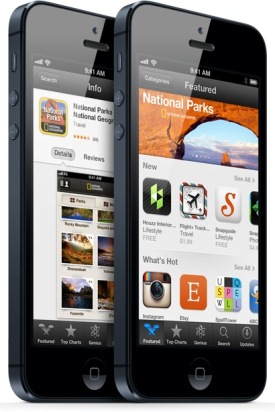 Exercise and the proper nutrition is all part of a healthy diet. An apple a day keeps the doctor away. Blah, blah, blah. You've heard it all before and still you'd rather play your video games, watch your big screen televisions or use your smartphones. Technology has taken over your minds and your bodies. But who's to say that you can't combine the two? Why not use your smartphones and work your body at the same time? These six apps will help you do just that.
1. Thin-cam
Thin-cam is an app that allows you to keep a food journal and post photos of your meals to your journal. The food journal can then be shared on both Facebook and Twitter, allowing you to show your friends what a healthy eater you are. Thin-cam costs a one-time fee of 99 cents.
2. FoodScanner
Have you ever wanted a quick way to scan the foods you eat the most and keep all of their nutritional information at the tips of your fingers? With the FoodScanner app, you can do just that. FoodScanner allows you to scan UPC bar codes of foods by using your phone's camera. The app connects to the DailyBurn Tracker's nutrition database to bring up the food's nutrition information so that you can save your favorites. FoodScanner will allow you to track calories by individual food or as a whole meal.
3. Lose It!
The Lose It! app is a sidekick for the Lose It! website. Lose It! will allow you to set your exercise and nutrition goals. Once your goals have been set, you can track progress by keeping a daily calorie budget and recording in a food and exercise journal to stay on track.
4. LiveStrong Calorie Tracker
Priced at a one-time fee of $2.99, the LiveStrong Calorie Tracker allows you to input your current statistics and spits out your target daily calorie amount. You can then input information on the foods you have eaten by searching a database of about 1.3 million different foods and 2,000 different fitness items. Track the calories that you consumed as well as the calories that you have burned to be sure that you are staying on track.
5. MotionTraxx Radio
You may prefer to listen to music while you work out. Music can keep you on rhythm and prevent you from becoming bored. For a one-time fee of $2.99, MotionTraxx Radio features a large selection of walking, running and workout routines that are set to music. Vary your routine weekly or even daily to keep from falling into a fitness rut.
6. Nike+ GPS
Do you want to experience the rush of having people cheer for you as you run without having to join a marathon? Nike+ GPS has made your dream a possibility and tracks your progress. The app allows you to sync with your Facebook and other social networking websites to alert friends that you are working out. For added motivation, Nike+ GPS will send a real-time cheer through the app each time a friend likes your status while you are still running.
Working out may seem tedious and boring, but it can be made fun with the right tools. Put on your running shoes, grab a bottle of water and your smartphone and get out there. Your body will thank you.