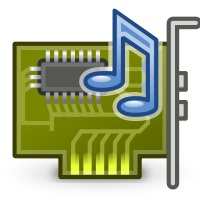 Many of us face problems with our computer's audio from time to time. At times we completely lose the audio while using a multimedia program. Most of the time the problem may be because of a faulty or loose wire connection that can be easily resolved, however in some cases the cause of such a problem can be hardware failure or an outdated and incompatible sound driver.
Any device incorporated into your computer's setup requires a driver to communicate with the system. It acts as a mediator between the device and your computer. When there are problems with the audio drivers, the device becomes unable to comprehend and execute commands given by the computer. To put it simply, when you turn the volume up on your speakers, it is the audio driver that sends a digital message to your computer instructing it to increase the audio output to the speakers. But id the driver is damaged, your computer will either not receive or will not fully understand the message causing malfunctions in audio and audio control.
A device driver may get corrupted when important system files are damaged or changed. This can happen as a result of malicious software such as viruses that makes small change over time to your systems files. The simplest way of resolving the issue is to simply download the latest updated drivers for your audio card. It is best to do it through driver update software which literally does all the work for you. It scans the system for outdated drivers and updates them with the latest versions.
Using the driver checker software will make sure none of the problems related to audio drivers are left unresolved. This takes complete control of your driver status and requirements and allows you to download and replace the unwanted audio driver on just a single click.
You can also check the website of manufacturer of your sound card as most of them offer updated drivers for download. Normally you will find it in their "Downloads and Support" section. You can search for the specific model of your sound card and then choose the correct driver for your system. For example if you have RealTek audio drivers installed on your computer then you can find the related updates on the company's website. However there are many third party websites that are dedicated to provide all the technical support and help to the computer users and you can download updates for various device drivers there.
Updating the sound card is a relatively easy process which ensures the solution to numerous audio problems, especially those that have already been identified and fixed by the manufacturers. It is not necessary that you update your system's sound card only when problems occur, but you can also do it periodically as a preventative measure. There are many websites where you can read more about driver downloads and other topics related to computer applications, common problems faced by the users and their suggested solutions. These sites help you understand the root of the problem you might be facing with your computer system and find the best solution for them.