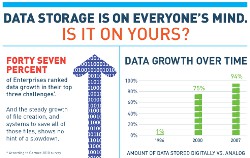 In 1986, only 1% of all the world's data was stored digitally. Two decades later, in 2007, it was over 94%.
The US has the most data stored digitally, however as the other countries catch up this might change in the near future.
The following infographic shows us some interesting statistics about data growth and storage methods, as well as their history.


Infographic by Rackspace.com